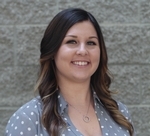 925.603.3615

925-925-550-8453 cell phone

ally@e3realty.com
2157 Country Hills Drive Suite 206
Antioch CA, 94509
Receive Email Alerts from Me
If you had to describe Ally Gibbs with just one word, that word is most likely to be driven. Buying your next home, or selling your current home is a personal, emotional and stressful process. Ally prides herself on her ability to build trust with you and live up to all of your expectations. She strives to be the person that those close to her can rely on. When you become a client of Ally's, you become a part of her inner circle, which in turn, makes you family and she will do everything she possibly can to give a high level of care, respect and strength through one of the biggest financial decisions in your life. While she doesn't strive to be the best there is, she aims to build lasting relationships and sees a higher importance in taking significant care of her clients from the beginning to well beyond the end. With Ally by your side, you will feel the difference as you venture through your real estate decisions with less stress, and peace of mind knowing that you have someone you can trust and rely on.

Outside of the office, Ally is a basketball coach for her alma mater Liberty High School in Brentwood. She has grown up playing the sport and has a passion for the teamwork mentality that it develops in young minds. That same teamwork outlook has bettered her professional career as it shines light on using collaboration with others to continuously learn more and create new ideas. Ally has lived a majority of her years in Discovery Bay where she now resides with her loving husband who keeps her humble and inspires her to follow her passions everyday. Ally is a sports fanatic so she loves spending her weekends locked into the Warriors game or tailgating in Oakland. She also loves to travel and hopes to someday visit every baseball stadium.

Ally is passionate about every aspect of life, both personal or professional, making it easy to go above and beyond for her work, her family and everyone in between.


Ally is a licensed REALTOR®. She holds her license with the California Department of Real Estate #02017259