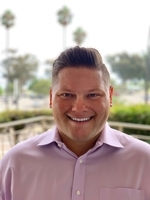 925.603.3615

925-212-0004 cell phone

erik@e3realty.com
2157 Country Hills Drive Suite 206
Antioch CA, 94509
Receive Email Alerts from Me
Erik Ziegelmanwas born and raised in the East Bay area, graduated from California State University, Sacramento and has 13 years of experience in the finance industry. With a successful track record in building lasting relationships with his banking clients, Erik aims to please. He has carried this into his career as a REALTOR® and is motivated to help clients find their dream homes. He is an area expert who strives to go above and beyond for his clients. Food and wine connoisseur who enjoys brunching, happy hour and regular trips to wine country. Host with the most who enthusiastically plans important events for friends and family while also attending a variety of local concerts and events.  
Role at E3: REALTOR® 
Future Goals: Travel the world. Start a family. Become an influencer.  
Community Involvement: Volunteer at: Habitat for Humanity, Folsom Food Bank, Junior Achievements, American Heart Association  
Little Known Facts: Dad dog to a Frenchie. Décor enthusiast. Life of the party.  
Favorite Space in a Home: Shower, where he can start the day by singing his heart out and pretending to be a pop star.